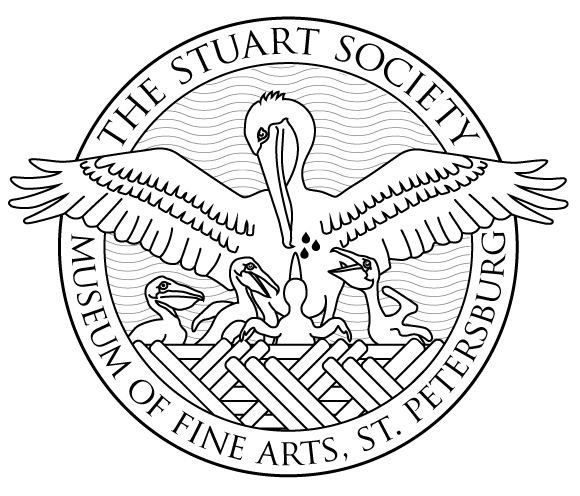 The Stuart Society exists to:
Promote the welfare of the Museum of Fine Arts, St. Petersburg,

Stimulate public interest and participation in Museum activities,

Increase the Museum's general membership, and

Maintain a close acquaintance with the activities of the Museum
Our History
Margaret Acheson Stuart's dream of a small, superior museum in her adopted city of St. Petersburg, Florida took shape in 1962. That year, a Board of Trustees was chosen, who then chose an architect, a museum secretary, and eventually a director and advisory curator. At the same time, a few interested women were asked to establish a Women's Committee. They drew up their plans, meeting in an old dilapidated building at the corner of Beach Drive and Second Avenue Northeast in downtown St. Petersburg.

Mrs. Stuart spent much of her time in the old building, which was the predecessor of the present Museum of Fine Arts. In one corner of the building, she created an air of quality and charm with antique rugs, fresh flowers, and carefully chosen prints - a hint of her dreams for a future museum. The nonprofit Museum of Fine Arts, St. Petersburg was incorporated in 1961, and Mrs. Stuart established a $1 million endowment to support annual operations and maintain the beauty of the grounds.

There is no record of how many women met on November 29, 1962. Mrs. Stuart, along with Rexford Stead, the first Director, and Horace Jayne, Advisory Curator, set the goals of the Women's Committee. At this meeting, The Margaret Acheson Stuart Society was chosen for the organization's name, bylaws were adopted, and officers were elected.

Due to construction delays, the Museum of Fine Arts, St. Petersburg did not open until early 1965. Director Stead asked The Margaret Acheson Stuart Society to coordinate the grand opening, saying, "It presents the Society with a fine opportunity to welcome a new era to St. Petersburg, and to welcome it with grace, sparkle, and élan."

In early 1970, Mrs. Stuart donated $300,000 for a new auditorium and sculpture garden. The auditorium was named "The Marly Room" after the Hudson River estate that Mrs. Stuart sold to secure construction funds. These additions completed the architect's original plan. But by the mid-1980s, the museum faced a new challenge. With its growing art collection, storage space was inadequate and a second floor was added. The renovations and addition were finished in 1989. On February 23, 2008, a $21 million addition - the Hazel Hough Wing - had its grand opening. Over 1,200 people attended the event. As with the original opening of the museum in 1965, The Society coordinated the celebration.

The Margaret Acheson Stuart Society is a separate non-profit organization that supports the Museum of Fine Arts, St. Petersburg. The Society hosts several large fundraising events each year in pursuit of its mission. Over $5 million has been raised since the inception of The Margaret Acheson Stuart Society in 1962. Funds donated have supported major exhibitions, art acquisitions, art restorations, educational programs, capital improvements, and operating expenses.


Board of Directors
Pam Hatton, President
Dawn Sumner, President-Elect
Augusta Harvard, Membership Vice President
Rebecca Malowany, Communications Vice President
Lisa Funsch, Recording Secretary
Brooke Nelson, Corresponding Secretary
Liz Curry, Treasurer
Joann Barger, Parliamentarian
Jean Catanese, Digital Chair
Chloe Firebaugh, Nominating Chair
Mary Jane Cartier, Provisional Member Chair
Maria Rawls, Ways and Means Chair
Rita Peters, Immediate Past President
Meetings
General Meetings are held September through May on a Thursday morning at the Museum of Fine Arts, St. Petersburg. Guests are invited to attend with a member in good standing of The Stuart Society.


Membership Classifications

Active - Members who are expected to participate in the activities of The Society and the Museum. May vote and hold office.
Life - Members who have made a larger one time dues payment. They are expected to participate in activities of The Society and the Museum. May vote and hold office.
Provisionals - Provisional members are required to serve a total of 50 hours of combined volunteer service for The Stuart Society and the Museum between March when they are first introduced to the membership and April of the following year. A requirement of acceptance into The Stuart Society is a proven desire and ability to work for the benefit of the Museum. A candidate for provisional membership must be sponsored and co-sponsored by Active or Life Stuart Society members.

Honorary - S

uch persons who are deemed worthy of membership by reason of outstanding service and achievement. They are granted Honorary Membership by an unanimous vote of the Board of Directors and those members present at a General Meeting of The Stuart Society.



Past Presidents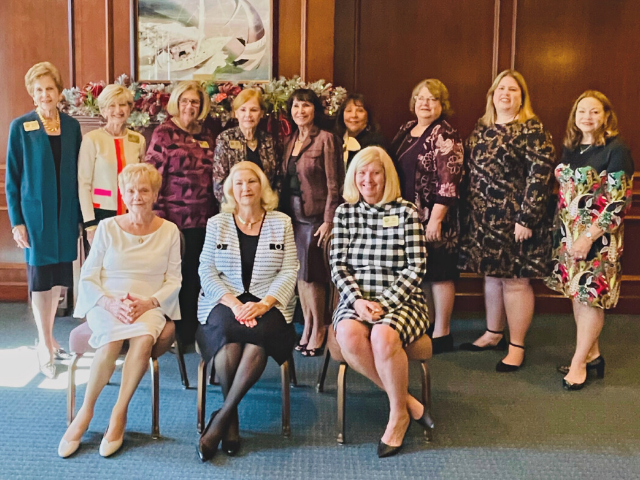 Picture taken December 2, 2021 at the St. Petersburg Yacht Club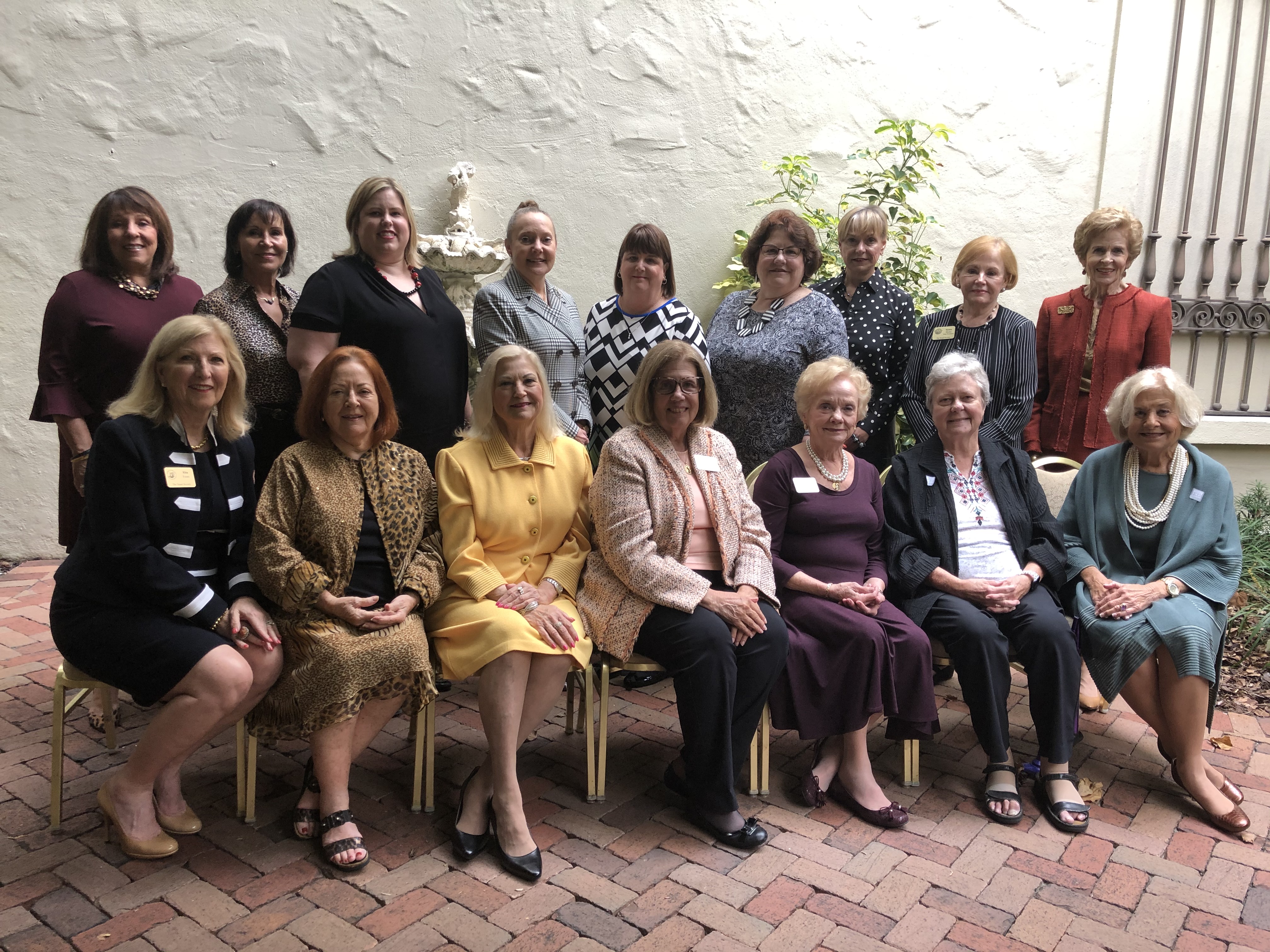 Picture taken November 14, 2019 in the Membership Garden of the Museum of Fine Arts, St. Petersburg
Picture taken November 1, 2018 in the Membership Garden of the Museum of Fine Arts, St. Petersburg