ART WORKS
Every month we will feature a specially chosen work of art from the MFA. We hope by sharing a selection from our fabulous museum's great collection, it will tempt you into your own voyage of artistic discovery! Thank you to our wonderful docents who sponsor this column. Check back for great new discussions.
October 2016
GUY C. WIGGINS (American 1883-1962)
A WALK IN THE PARK, 1955
Oil on canvas
Collection of Museum of Fine Arts, St. Petersburg
Gift of Gostas Lemonopoulos in memory of George Lemonopoulos 1986.62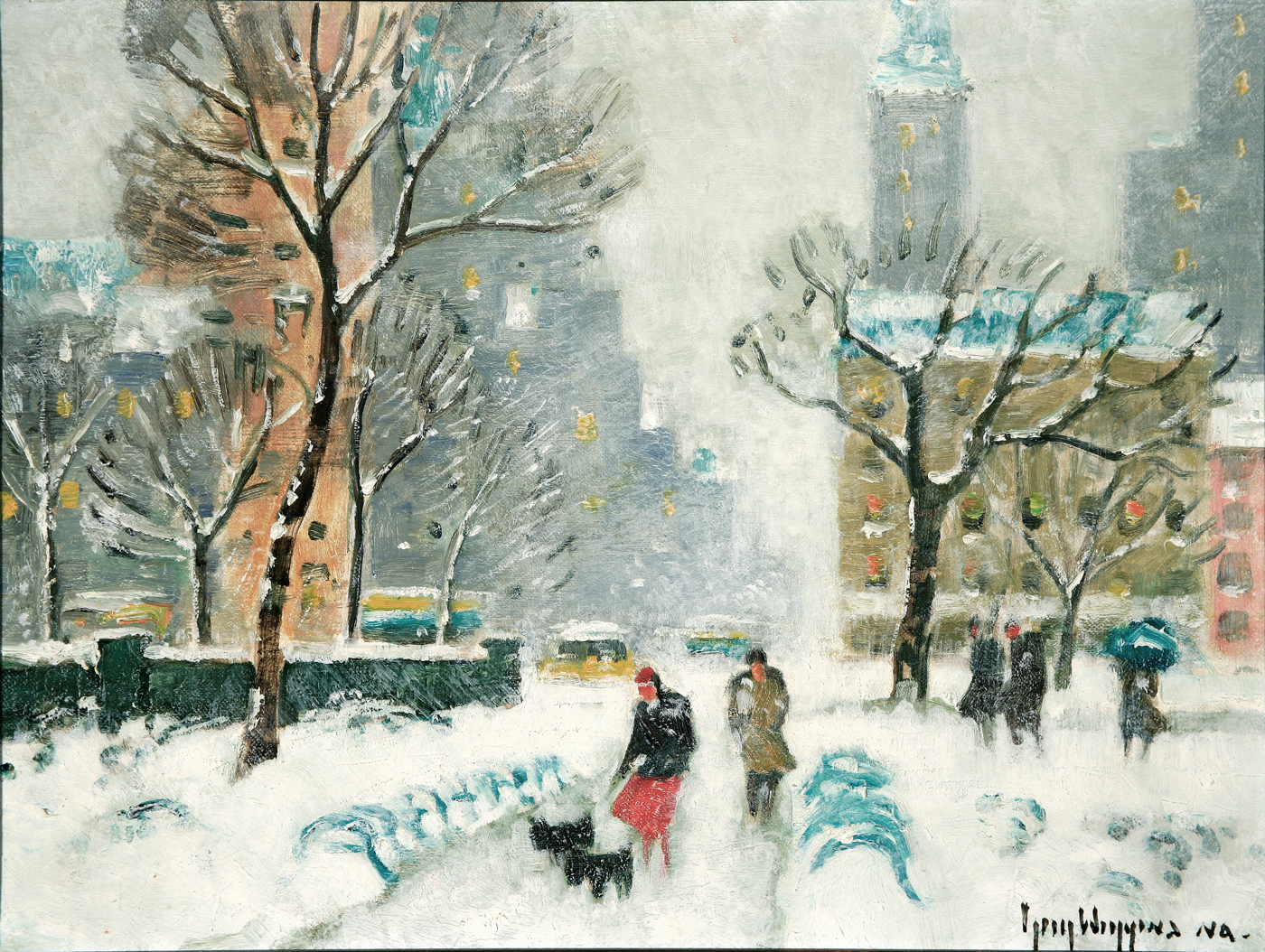 A winter snowstorm in New York City can be beautiful and miserable simultaneously. For artist Guy C. Wiggins (American, 1883-1962), the city's storms offered a lifetime of visual opportunities. Recently installed in the Poynter Gallery and drawing on the Museum's collection is Wiggins's oil on canvas, A Walk in the Park, 1955. It depicts the city from the southeast entrance of Central Park, just off 5th Avenue and 58th Street. Beneath grey skies, snow is falling at a hard angle. The cold wind blows at the red skirt of a woman who walks her dogs, while men in coats hunch their shoulders to protect against the weather. On either side of the walkway, benches are covered in snow, with only their rounded, green railings visible. The white of the snow highlights the colors of yellow cabs, green roofs, and the golden glow of electric lights in the windows of the various buildings.

Wiggins spent his career working in a style influenced by French Impressionism. The son of an artist, Wiggins painted numerous landscapes in his career and was an active part of the art colony in Old Lyme, Connecticut. However, he is known best for his snowy cityscapes of New York. Recognized early in his career, at the age of 20 Wiggins became the youngest artist at the time to have work acquired by the Metropolitan Museum of Art.



September 2016


JAMES HOUSTON
ARCTIC FISHERMAN, 1970
Glass and Silver
Gift of Mrs. Helen Harper Brown 1986.23.19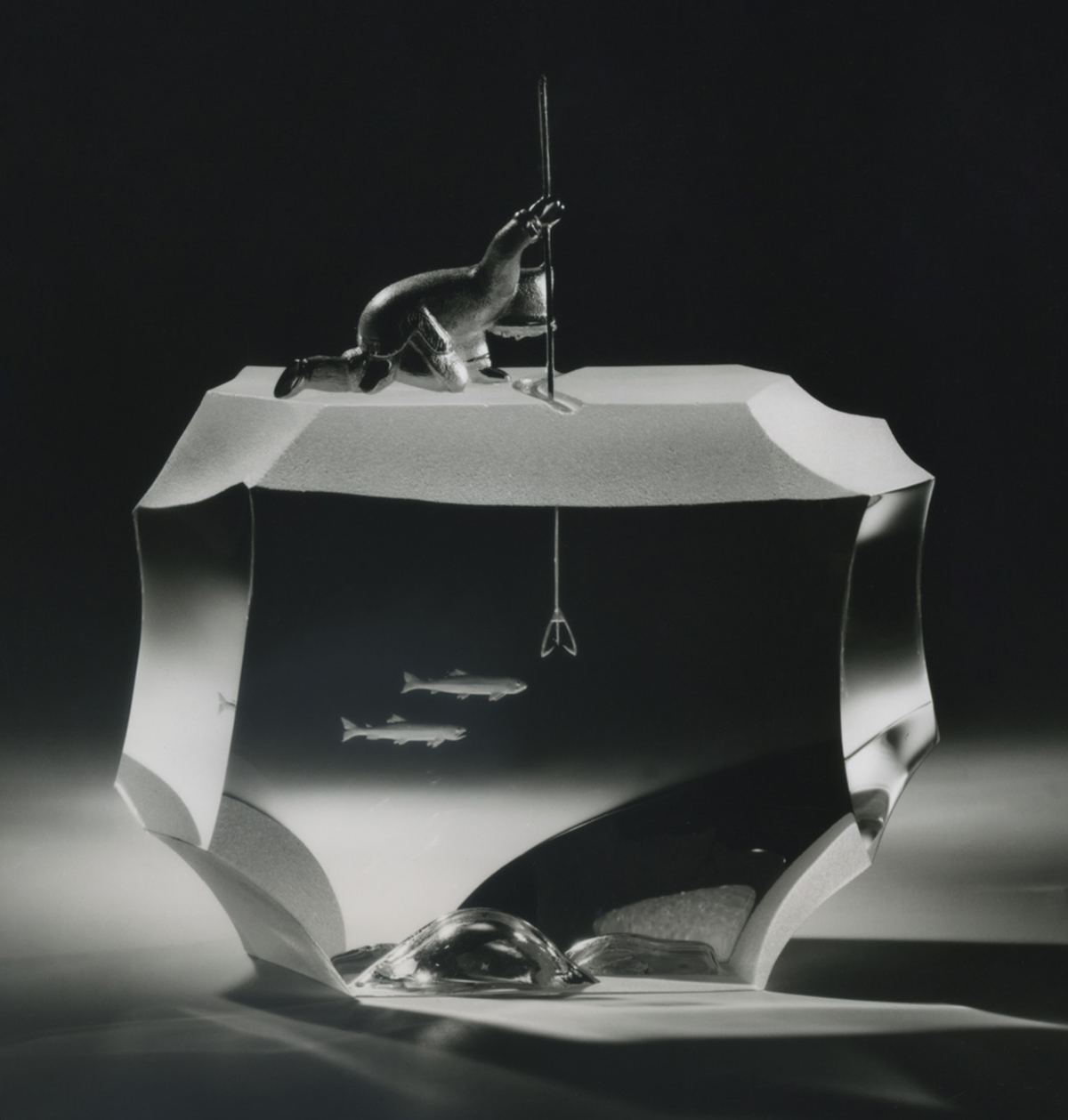 Steuben glass was a famous glass design company located in Corning, New York, in Steuben (Stew Ben) County. However, one of its prominent artist/designers was a Canadian, John Houston. Always an adventurer, Houston became involved in a Canadian government project that sent artists to live in native Canadian communities in the Arctic to help preserve the stories and art of these people. The Steuben fisherman piece was actually modeled on an Eskimo poet with whom Houston had become friends during that project. Even though the fish appear to be within the crystal, they are actually engraved on the surface. The fisherman figure is silver-covered rhodium. This piece was created during the period when Steuben used gold and silver to enhance its brilliant clear art crystal.
Article courtesy of Andi Barlow
Reference:
"Stueben Glass - An American Tradition in Crystal" by Mary Jean Madigan
"Fire into Ice: Adventures in Glass Making" by John Houston